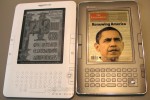 Earlier, at the
Kindleworld blog
, I added some more info on Qualcomm's Mirasol technology, including the rumor (from Qualcomm reps, per Clayton Morris) that Amazon may be using the e-paper-like (but speedy) color technology in the Fall (see link above).
Yesterday,
Cliff Edwards of Bloomgberg's Businessweek
reported on Qualcomm's Bright Low-Power Screen and the "
So-called reflective displays [that] use microscopic mirrors to create iridescence
"
In that story which explains the technology, Edwards writes:
' [CEO Paul Jacobs] says that this fall at least one manufacturer, which he declined to name, will ship e-readers using Mirasol displays. The timing could be fortuitous. Yankee Group forecasts sales of e-readers to more than triple, to 19 million, by 2013. Dell (DELL), HTC, and other companies have announced plans to introduce full-color devices later this year to grab a piece of that market. Amazon declined to comment on its plans. '
Businessweek adds another story on
how Mirasol imitates butterfly wings
.